In a move many will be saddened by the Lions have lost their faithful inside center.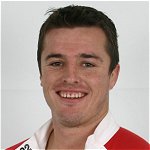 The Golden Lions Facebook site reports in dry fashion that the stalwart inside center has signed for Benneton Treviso and has been released from his contract with effect June this year.
This may explain why he has been replaced by Alwyn Hollenbach and now by Jaco Taute in the Super 15 side.
La Grange is a converted scrumhalf who moved to the inside center berth and actually skippered the Lions last year during the Super 15 after John Mitchell dropped Franco Van Der Merwe for a spell. He was part of the 2011 Currie Cup winning Lions squad.
He'll be missed as one of the few inside centers in South Africa who could run into gaps and put other runners around him into space.