All Blacks coach Steve Hansen is likely to decide on his coaching future before the end of the year.
He is contracted to the end of 2017 and there is a growing clamour from the country's best players to see him locked in until the next World Cup.
New Zealand Rugby are believed to be ready to make that commitment and willing to start talks whenever Hansen is ready.
The man himself, though, won't be rushed into making a decision until he's sure staying on is the right thing to do.
To extend his contract, Hansen will have to convince himself that he still has the ability to connect with the players and is sure he's adding value and making a difference.
He has been with the All Blacks since 2004 – serving as assistant for eight years and head coach since 2012 – which is one of the longest associations with a test side anywhere in the world.
He also wants to be certain about his desire and motivations and won't be able to assess those until the test season is in full swing.
As much as he's not in a rush, NZR will want to have clarity before the end of the season so as they can plan their succession process.
"It [All Black coach] comes with a lot of responsibility and I don't want to just do it because you have a shot at history," says Hansen. "It doesn't matter who is coaching this rugby team in 2019, they will have a shot at back-to-back-to-back.
"It's not the right reason to do it for personal glory. The right reason to do it is that I still believe, and others in the team still believe, I have got something to offer.
"There's a part of me who would never want to stop coaching the All Blacks because it's become part of my life. You can't get a better job.
"But, again, it's not the right reason to do it, either. So you have to make a really strong decision.
"The biggest expectations we have in the team is the team first and individuals second. If it's right for the team and my family, then I may continue to do it."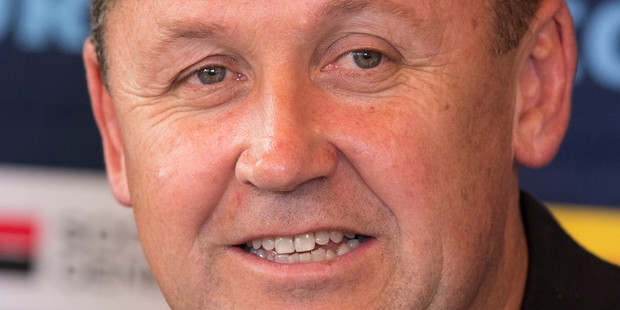 Hansen has previously worked to ensure the All Blacks coach changes in the middle of a World Cup cycle – he signed through to 2017 before last year's World Cup – rather than after a World Cup to place less emphasis on the tournament and provide more continuity.
When Hansen chooses to stand aside as head coach, he's adamant Ian Foster would make a good replacement. Foster has been All Blacks assistant under Hansen since 2012 after previously coaching Waikato and the Chiefs.
"One thing I know is that Ian Foster has grown immensely as a rugby coach," Hansen said.
"He's always been a good man. He's learned a lot, as you do when you are at the coal face of an international team.
"The other thing I know is continuity is a good thing, and he would provide that.
"Whenever I leave, I think he's a really strong candidate, but there are a few other people who will put their hand up, too, and the rugby union will have to look at all of them. Fozzie is a very capable man and certainly capable of running the All Blacks."
Facebook Comments